Maandagochtend.
De agenda staat open en je ziet dat je week al weer aardig volgepland is. Je hebt er zin in, want de economie lijkt weer op gang te komen. Afgelopen maanden hebben een stevige (financiële) tol geëist.
Het blijft door je hoofd spoken: hoe lang kunnen we dit nog volhouden? Als alle tekenen van een aanstaande wereldwijde crisis (herschikking van beschikbare middelen en heroverweging van het consumerisme) -al is het maar voor 10%- waar worden, gaat het er nog om spannen.
Hoe doen anderen dat?
Als je naar succesvolle ondernemingen kijkt die lijken weinig (of geen) last te hebben van de huidige situatie, zijn dat bedrijven die juist konden profiteren van de tekorten aan hulpmiddelen voor de zorg, bedrijven die financieel zéér gezond zijn en veel kunnen investeren in nieuwe business, bedrijven die heel snel konden omschakelen naar andere producten en strategieën, bedrijven die snel konden "afschakelen" en daarmee hun core business overeind konden houden, etc.
Digitale economie
Peter Diamandis (Singularity University) heeft de stappen beschreven die gevolgd zijn door bedrijven die nu nog steeds succesvol zijn en de toekomst met vertrouwen tegemoet gaan.
Kenmerkend is dat ze allemaal sturen naar een digitaal economisch model. Daarbij maken ze gebruik van technologieën die zich exponentieel ontwikkelen. Die bedrijven worden dan ook exponentiële organisaties genoemd.
Hij onderscheid 6 fasen ("6 D's") die je een soort roadmap mag noemen:
Digitize
Alles dat wordt gedigitaliseerd volgt dezelfde exponentiële ontwikkeling als we in computing zien.
Deceptive
Exponentiële ontwikkeling laat zich in het begin niet makkelijk herkennen totdat de stappen groter worden dan men van tevoren kan inschatten of voorzien.
Disruptive
De bestaande markt wordt verstoord door nieuwe exponentiële ontwikkeling en de nieuwe business modellen die dat voortbrengt. Nieuwe gedigitaliseerde business overtreft qua effectiviteit en kosten.
Demonetized
Omdat digitaliseerde technologie steeds goedkoper wordt tot bijna gratis (zie de apps op je telefoon), wordt geld (investering) steeds minder belangrijk voor het resultaat (opbrengst/winst).
Dematerialized
Afzonderlijke fysische producten worden uit de keten gehaald. Zie de integratie van camera en smart phone.
Democratized
Als business gedigitaliseerd is krijgen meer mensen er toegang toe. Krachtige technologieën zijn er niet meer alleen voor regeringen, grote organisaties en rijken.
It no longer takes a huge corporation to have a huge impact.
OpenExO
Salim Ismael en Francisco Palao hebben de transitie naar een exponentiële organisatie verder uitgewerkt naar een gestandaardiseerd model.
Startend met een visie (Massive Transformative Purpose ofwel MTP) schetsen zij 10 aspecten waarmee een organisatie zich kan onderscheiden van anderen. Ingedeeld in twee acroniemen: SCALE en IDEAS.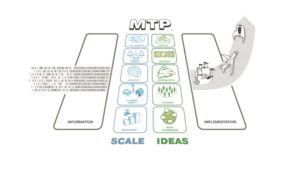 De lineaire manier van ontwikkelen wordt zwaar verstoord door degenen die in staat zijn exponentiële ontwikkelingen te integreren in hun business model. En er is geen weg terug!
Nu is de kans om je positie en toekomst te heroverwegen. Je hoeft dat niet alleen te doen. Een wereldwijd netwerk van meer dan 500 specialisten, coaches, financiers en business leiders staan klaar om je daarbij te helpen.
Wake-up call
Op 10 juni a.s. om 16.30 ga ik je nog meer vertellen van de wereld om ons heen. Hoe die gáát veranderen. Johan Cruijff zei "Je gaat het pas zien als je het door hebt". Ik wil je graag op weg helpen in een gratis Wake-up call sessie. Geef je op via deze LINK!:  https://www.house-of-innovation.nl/exo-coaching-aanbieding/
Geef je snel op voor de Wake-up call sessie. Je hebt nog maar een paar dagen!
https://www.house-of-innovation.nl/wp-content/uploads/sites/48/2020/06/ExO-verruim-je-horizon-wordpress_com.jpg
637
1024
franksmeets
https://cluster.swstatic.nl/wp-content/uploads/sites/48/2018/11/House-of-innovation.png
franksmeets
2020-06-08 12:30:49
2020-06-08 22:52:49
Hoe verander je in 3 stappen van onzekerheid over de toekomst van je bedrijf naar een doelgerichte en exponentiële organisatie? DEEL 3/3